Dakota Chokecherry Blossom

---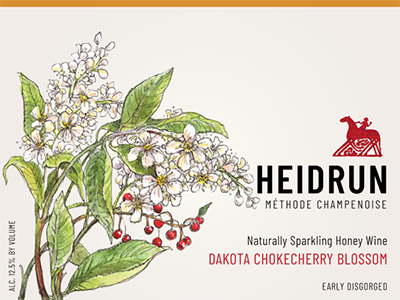 If you've ever enjoyed a beer at Hanson's Bar in Robinson, ND, (population 36) You may have been told you were at the exact geographic center of the United State of America. At least, the bar's proprietor makes a convincing case for that distinction. And, did you know that chokecherry is the state fruit of North Dakota? Ask anyone in Robinson and they'll tell you so.

This is all to say that a chokecherry honey from Robinson North Dakota is about as "Middle-America" as it gets. That's terroir.
This varietal was brewed from a couple of barrels of honey that had been held in storage for some time, just waiting for the right moment to brew. As the common name suggests, chokecherries are astringent or puckery, especially when immature or raw; but once ripe, they are made into preserves and jelly.
The mead is straw in color and has a briny, pecorino rind aroma, and mild sour cherry flavor notes. It's a brut dry savory varietal with a slightly woody finish. We think this would make for a perfect summer sipper.